2021 Excellence in Foster Care Awards 
At Caring Families Aotearoa, we have the privilege of working with and supporting so many amazing caregivers who go above and beyond what is expected of them for the tamariki and rangatahi in their care.
This July 16 caregivers from across the country were honoured for their outstanding mahi (work) at the Excellence in Foster Care Awards. We also acknowledged and celebrated all care families in our communities who work tirelessly with little recognition or reward.
Hosted by Oranga Tamariki and Caring Families Aotearoa, the awards are held annually to celebrate extraordinary caregivers.
This year's recipients are Shirley Afoa, Bev & Raymond Bade, Katrina Bevan, Claire & Paul Gyde, Lisa Henshaw, Barbara & Rex McElligott, Tim & Jenni Palmer, Shekinah Rapata, Carolina & David Roe, and Richie & Kura (Dec) Rowlands.
These recipients came from all over New Zealand to attend the ceremony at Government House in Wellington, along with their whānau and friends. Rt Hon Dame Patsy Reddy opened the very full ceremony with a wonderful speech.
"Thank you for opening your hearts and homes to children that need your love and care.
Of course, it's more than simply putting a roof over their heads. It's also about providing a safe and nurturing environment. In some instances, that entails providing intensive specialist care.
I'm sure that the recipients of today's awards did not set out on their journey as carers with accolades in mind. You saw a need and, most importantly, you were prepared to take action and do something about it.
That support, guidance and manaakitanga has given your young charges a better chance to have the future they deserve.
The whakatauki "Aroha mai, aroha atu: Love given is love returned" reminds us that the aroha that you have extended will enable them, in their turn, to extend aroha to others.
Your manaakitanga is helping to create stronger people and communities. I offer my congratulations and thanks, on behalf of all New Zealanders, to those of you receiving Excellence in Foster Care Awards today."
To read Dame Patsy Reddy's full speech, click here.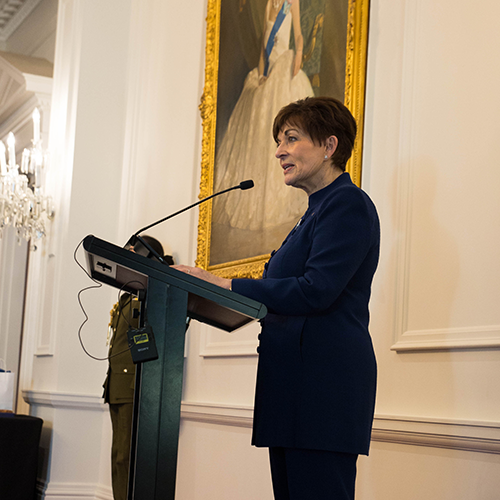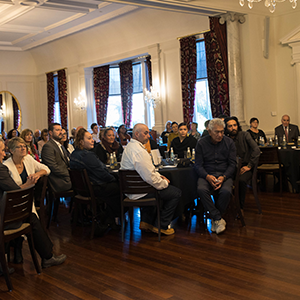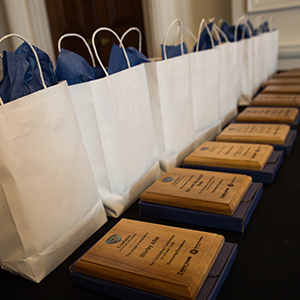 During the ceremony, a few of the caregivers / caregiver couples who received an award were interviewed about their experience providing care.
Click the arrow on either side of the box below to read about this year's wonderful recipients and their achievements.
Shirley Afoa
Shirley has raised six of her grandchildren over the past seven years – and provides respite care for another grandchild with special needs.
Despite her challenges, she has used her experiences to help other caregivers in her community through volunteering for Grandparents Raising Grandchildren, where she supports others who are facing challenges in their roles as caregivers. She is described as a "fine community minded person of integrity".
Today Shirley's family is thriving, with her grandchildren all achieving in their chosen fields, showing what can be achieved for children in care with a home full of love, security, support and understanding – as well as the courage and perseverance to get through difficult times.
Shirley is a shining light; an example of what it means to put the needs of others first. She has demonstrated enormous selflessness, empathy and unconditional love for the children, encouraging them to leave the past in the past, set goals for the future, and not let the past determine their future.
Bev and Raymond Bade
Not only are Bev and Raymond outstanding and experienced caregivers who provide excellent care, they go above and beyond to provide consistent support and mentoring to other caregivers and their whānau in their community.
For years, Bev has single-handedly run their community's caregiver support group, which is recognised as one of the strongest in the region. Bev helps caregivers to access funding support and encourages them to attend learning opportunities. Raymond is also a dedicated and active member of the support group, credited with encouraging men to participate in attending support meetings, events and training.
Selfless, loving and committed to the children in their care, Bev and Raymond are informed and proactive when it comes to their children's needs. Constantly advocating for them in every respect to ensure they can thrive and will always encourage their children to connect with their mother and siblings and to get involved with sport and activities.
Katrina Bevan
A solo mother of two young people with a busy career, Katrina cares for a child with high needs. She is involved in a wide range of community organisations, through which she shows leadership and dedication to children and young people.
Katrina has strongly advocated for the child in her care in the education and healthcare systems to ensure she has the resources and support she needs. The gaps she identified in these areas inspired her to take the issues to Parliament, which resulted in measures being put in place that have made it better not just for the child in her care, but children across Aotearoa.
Driven to ensure the child in her care meets their potential and have a fulfilling life, Katrina integrates them into her family and provides long-term love and security. With a strong moral compass, Katrina is a passionate person, guided by her deep knowledge of, and strong belief in, tikanga Māori. Taking the child in her care on regular visits with their relatives, Katrina has ensurs they grow up as part of a strong and stable whānau with strong connections to Māori culture.
Claire and Paul Gyde
When a child Claire and Paul had adopted was diagnosed with FASD (Fetal Alcohol Spectrum Disorder), it became clear that there was no support for families living with FASD – and their advocacy role was born. Driven by wanting a better experience for other caregivers and families through improved access to knowledge and support, Claire set up the charity "FASD-CAN NZ".  Claire has made significant contributions to caregivers, tamariki in care and families impacted by FASD, with the support of her husband Paul. When it came to caring, Claire and Paul knew the behaviours they saw were the result of his brain injury, not intentional bad behaviour. This belief helped them navigate any issues with compassion and love and enabled them to be supportive of their son.
In the same year they adopted their son, another child was placed with them, who they eventually also adopted. This child was of Ngāpuhi descent, and even though his birth family requested not to have physical contact, they ensured communication stayed open through his childhood. 
Claire and Paul now care for their grandson and provide a high level of support to build the relationship between father and son to ensure he will experience the pleasure and responsibility of being a parent.
Lisa Henshaw
A permanent caregiver to two children and a transitional caregiver to a young person with high and complex needs, Lisa is a great advocate for the children in her care and works tirelessly to ensure they have a voice, and their needs are met.
Having dedicated her life to caring for people, as a paediatric nurse, her specialised skills are regularly asked for by social workers. On a regular basis, Lisa ensures she is kept upskilled.  
Lisa is an equally strong advocate for all children, pushing for local playgroups for care experienced young people where caregivers did not have to explain how the children came into their care. Regularly attending support groups, training and hui, Lisa is often asked to support other caregivers.
A strong advocate for caregiving, Lisa believes every child needs to be connected to their roots and have a permanent home, with someone who can be their secure base and cheerleader for life. She particularly encourages other caregivers to explore permanency, always offering to share her experiences and discuss the support she receives.
Barbara and Rex McElligott
23 years ago, Barbara and Rex felt they could offer children and young people something different – having space and the ability to interact with nature and animals on their farm. Since then, they have had over 30 children come into their care, through respite, short-term and long-term placements, and the occasional emergency placement.
While there have been challenging and difficult times, Barbara and Rex got through by being innovative in their caring strategies, flexible, and making sound decisions based on research and what was in the best interests and needs of the children in their care. They have a real focus on making sure children and young people feel relaxed in their home and farm. Barbara and Rex aim to be sensitive to the cultural needs of children, incorporating te reo and te ao Māori into their home, and organising a visit to a marae for a child who had never been. Placing family and whānau connections highly, they stay connected and have ongoing relationships, as they know this benefits the child. Known throughout their community, Barbara and Rex have been involved in local support groups and have been active in organising events for other caregiving families. Barbara has worked with most of the caregivers in her community over the years, offering personal and professional support in different roles, advocating for them and the children in care, and helping them to be the best caregivers they can be.
Jenni and Tim Palmer
Humble and loving people who make their home a safe space for children, Jenni and Tim do not see caregiving as a burden, but as a calling. Caregivers since 2003, they have had fifteen children in their care – while raising seven children of their own. They have provided weekend respite and shorter-term care.
Tim and Jenni proactively arrange meetings with other caregivers. They host quarterly gatherings in their home, where they can spend time with others who have similar experiences, and support and encourage each other. Jenni and Tim are also involved in their community, with Jenni running a playgroup, and being part of the home school community and toy library.
Jenni and Tim work to create a sense of belonging and a strong rapport, welcoming children to their home with food and toys, and leaving a small gift on their beds. They are passionate about what they do, engaging with the children in their care so they have a sense of stability and support. Jenni frequently advocates for the children's needs, undertaking research and learning in areas of concern. Jenni and Tim connect the children in their care with their whanau, accommodating and supervising visits and calls, and are willing to support the children's transitioning.
Shekinah Rapata
Shekinah has been pivotal in the life change of a young person with a significant history of trauma, she has put her life on hold to provide support and care for the past three and a half years. Although this has come with its many challenging situations, she has always been there for this young person. The young person – who now describes Shekinah's home as the first place that has felt like a home for her – came into her care not attending school and was engaging in dangerous behaviours and activity. She is now in school full time, has passed NCEA Level 1, and has positive long-term relationships. Many say she is not the same young person they knew a few years ago.
Relentlessly empathetic and attuned to her needs, Shekinah always does what is best for the young person – no matter how difficult or draining. Passionate about trauma-informed care, she has attended several trainings to refresh her knowledge, even when not required to. Shekinah encourages the young person's interests, aspirations and achieving whatever she sets her mind to. 
Shekinah's impact is much larger than the young person in her care. She has spoken at Open Home Foundation information evenings and training about her experience, which has been inspiring for all who have heard.
Carolina and Dave Roe
Carolina and Dave have been caring since 2012 and permanent parents to a child. They describe themselves as "bonus parents," to many tamariki and rangatahi. They relate to children and their families in a loving, nurturing, supportive and authentic way, drawing on their own personal experiences and journey. They also mentor young people and open their home to those in need, outside of caregiving.
Driven to ensure the children get whatever they need, Carolina and Dave are constantly looking for ways to support them by going to courses, seeking specialist help, and getting whatever resources are available. They have organised private swimming lessons, arranged teacher aides and gone out of their way to ensure their home meets the needs of the children in their care.
Respected in their community, Carolina and Dave are involved in their church, the child's school and the business community. They have participated in support groups, and spoken about caregiving at information evenings and trainings, where they built relationships with other carers who they support in many ways. They encourage people interested in caregiving to become that person who can make a difference – just like they have for so many.
Kura and Richie Rowlands
Shining lights in their community, Kura and Richie have been caring for children through the Open Home Foundation since the early 1980s, until Kura sadly passed away last year. With the help of his grandson, Richie now cares for a young person with high needs who has been with the whānau long term. Kura and Richie have cared for tamariki and rangatahi in residential homes and their personal home, always eager to take on children – almost always answering 'yes' to placement requests. Known to bend over backward to support the children in their care, Kura and Richie always poured a lot of their hearts into caring, always showing extraordinary love and compassion towards tamariki. 
Strong in their Māoritanga and proud of their roots, Kura and Richie immersed tamariki in Māori culture, through language, kai and visits to the marae. They have worked with whānau to foster a good relationship for the benefit of the children, and Kura always viewed the end goal as bringing whānau back together. Gentle and humble souls with a passion for caregiving, they attended Open Home Foundation training, evenings, morning teas and dinners, always imparting their positivity and wisdom to fellow caregivers and staff. Kura and Richie have left a legacy that their family intends to carry on, having watched them care for so many children over the years.
If you know an extraordinary caregiver who goes above and beyond for their tamariki and rangatahi, please consider nominating them for next year's awards. We know that there are so many caregivers out there who deserve this recognition, with your help we can make this happen. Keep an eye out, in your inbox, for an email announcing when nominations open.