Tēnā koutou katoa i roto i ngā āhuatanga i te wā / Greetings to you and the circumstances of the time,
This seems a relevant greeting in this time of moving up and down levels of COVID-19. I have found it tough this second time around and I have heard from many care families who have also found it really tough, and their tamariki (children) have been more brittle and testy than normal.
Anna Gundesen
Auckland RC
09 280 3862 or 027 538 9691
I love the hope that comes with kōanga (Spring) and the chance to return to nature – hono ki te taiao. Spring has also brought daylight saving, which of course has its positives and negatives too. My whānau and I are looking forward to more outside time and getting motivated to plant vegetables in the garden. New World's "little garden" seedlings help to get the kids involved in gardening and growing.
I do hope over the school holidays and beyond you can find some time to nurture some personal seedlings of your own and find joy in spring moments around you – sometimes, that is all we can do in lieu of a bigger or better break, and it can be in these small moments of peace and solitude that our fractious nerves can be soothed.
I have really enjoyed connecting with many of you through training. Workshops are an opportunity to connect with other like-minded folk with similar experiences and I always say to attendees that there is just as much learning in the sideways sharing as there is in the top down learning. We all enjoy the great discussions throughout the day. Let me know what you would like training on and how we can support you. Please check out the Term Four training calendar which is now live!
School Holiday Activities
A week of school holidays has already passed! Find below a link to a neat resource for the younger tamariki that incorporates a lot of Te Reo and has cool activities like growing kumara and making kites.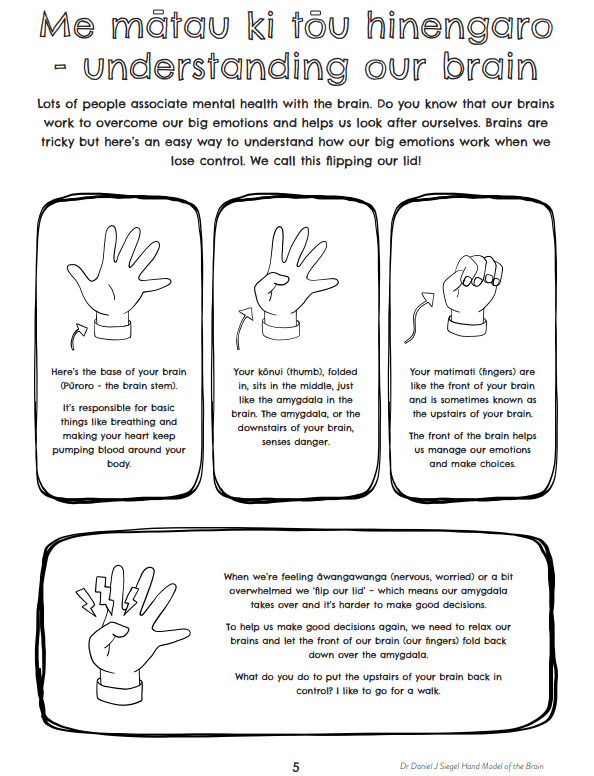 On page five, in the second booklet, there is a child-friendly version of the Hand Model of the Brain by Dr. Dan Siegel. This may help kids to understand what is happening when our 'lid is flipped' – tell them that the thumb is like the alarm button and when the fingers uncover the thumb it sets the alarm off – encourage them (and you) to work out what helps to keep the fingers over the alarm.
2020 Annual General Meeting
Come and meet me on Friday 16 October for the 2020 Annual General Meeting. There will be presentations and speakers so be assured it will be interesting. I'll be putting on a morning tea in my office in West Auckland, so do come along for a catch-up. The AGM will be from 9.30 am – 11.30 am. Please click the button below to RSVP.
We have Family Fun Days coming up in Tamaki Makaurau. Caring Families Aotearoa will make the most of these events and have some Christmas fun for you wonderful people and your tamariki!
FASD Support Group Auckland 
FASD Support Group meet every second Tuesday of each month at 7pm in Blockhouse Bay.
Contact: Ross Porter
Mobile: 021 644 150
Email: rossaporter@gmail.com
Kia kaha kia maia kia manawanui / Thanks for being strong, steadfast, and willing.
Anna
Have you joined our closed Facebook Group?
As a member of Caring Families Aotearoa you have exclusive access to our CLOSED Facebook groups. These are only open to caregivers that are members of Caring Families Aotearoa. This allows our members a platform to seek support, information and resources.
Click the link below to join!
Auckland Support Closed Facebook Group