Excellence in Foster Care Awards
Each year 10 amazing caregivers or couples are celebrated for the astonishing work they do. Caring Families Aotearoa has been holding the Excellence in Foster Care Awards annually since 2007. In 2012 Oranga Tamariki, Ministry for Children, partnered with Caring Families Aotearoa and have now successfully hosted the awards together for eight years.
2020 Excellence in Foster Care Awards
At the beginning of March, during Foster Care Awareness Week, we celebrated the Excellence in Foster Care Awards.  On the 6 March 2020, 10 wonderful caregivers / caregiver couples were recognised for their extraordinary efforts, not only to the children in their care but to the community around them.
These recipients came from all over New Zealand to attend the ceremony at Government House in Wellington. Dame Patsy Reddy opened the very full ceremony with a wonderful speech.
"You take on this work knowing that there may be considerable challenges, but also knowing that the return of a lost smile to a young face is its own reward.
"The impact of your intervention and guidance is summed up in the whakatauki 'Ko te piko o te Māhuri, tērā te tipu o te rākau.' The way in which you nurture the sapling, determines how it will grow.
"You have taken on that challenge, and our communities and the children that you have helped owe you an enormous debt of gratitude.
"Thank you for opening your homes and offering children a haven where they can grow and thrive."
This was then followed by Linda Surtees, CEO of Caring Families Aotearoa and Gráinee Moss, CEO of Oranga Tamariki. During the ceremony Te Aro School treated us to a magical kapa haka performance.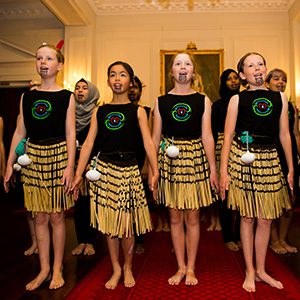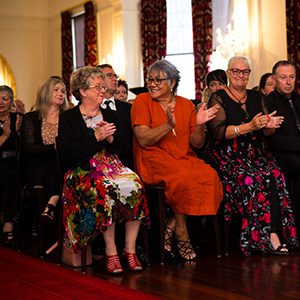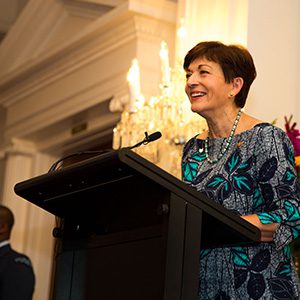 A Weekend to Remember
The recipients were then treated to two days of sightseeing, delicious meals and of course, time to relax, because they really deserve it.
This year's 2-day adventure started off with the ceremony, followed by lunch on Wellington Waterfront then dinner in the CBD. Day 2 commenced with breakfast in Lyall Bay followed by a Weta Workshop Tour before saying goodbye to this years fantastic recipients.
This Years Recipients
Click the arrow on either side of the box below to read about this years wonderful recipients and their achievements.
Ann and Mitch Mitchell
Ann and Mitch have been caring for over 40 years. Their approach to caregiving focuses on manaakitanga, whanaungatanga, kaitiakitanga and most importantly aroha! Their dedication to the needs of the young people in their care and the importance of understanding their place in the world is incredible with Ann often going above and beyond to help young people connect with their whakapapa.
Inclusiveness and empathy are also a strong part of their approach. In their home there is an expectation that young people in their care take part in daily activities helping rangitahi feel like they have a role in the house. The work this couple do for the caregiving community is inspiring.
Rana and Mike Saywell
Rana and Mike are valued members of the care community. They provide emergency, respite and transitional care and are well known for their open-door policy. Their true talent however is in connecting with teenagers and young adults. Young people in need of a home commonly request to stay with them, this clearly shows they excel at building strong and trusted relationships with young people in short spaces of time.
Rana and Mike work collaboratively with social workers to create the most positive outcomes for the young people in their care. They show respect to everyone they work with both young and old and this respect is 100% reciprocated.
Georgina Kaye and Richard Kerr
Georgina and Richard have a boundless supply of patience, compassion, flexibility and fun, whether this is for the children in their care, the care systems that they work within or their community.
They show great understanding in the complexities of the emotions and trauma of the young people in their homes, supporting them as they adjust to their new environment and again working closely with whanau to ensure smooth transitions back home.
Georgina and Richard's biological children are also strong advocates for their foster siblings ensuring they are an integral part of the family unit and that they receive support, love and encouragement. Their children share the positive experiences of being a caregiving family and raise awareness of this within their schools and local community.
Darren and Dorah Farrow
Dorah and Darren began their care journey working in prisons. They saw a need for early intervention and now run a family home in Hamilton. They have a talent for taking young people with challenging behaviour into their home and through care, structure and consistency create an environment for these young people to thrive.
The impact Darren and Dorah have on the young people in their care has created a huge amount of respect by social workers and other professionals. They have even been asked to share their approaches to assist other organisations in creating positive outcomes.
Most importantly the boys in their care feel safe and secure. This significant impact on their future is priceless.
Rosemarie and Jason Farley
Rosemarie and Jason began as respite carers and this has grown into an incredible permanent commitment to their daughter who is now a well-loved member of the family.
Their devotion to her and her needs is above and beyond as they are often putting their lives on hold to ensure she always feels stable and safe in their care.
To guarantee their daughter always feels supported Rosemarie and Jason work closely with others to ensure everyone involved in her life are on the same path and feels like part of their wider family.
Rae and Kevin Dassler
Rae and Kevin work tirelessly to develop strong relationships with the young people in their care. They are always flexible, accommodating and considerate. Where they truly shine is in understanding the importance of working with their young people who are transitioning out of their care so that they feel safe and ready for the future.
Rae and Kevin are compassionate and selfless, actively organising support group meetings with fellow caregivers in their community. The work they do helps to create positive and safe spaces in the caregiving world.
Sue and Greg Cundy
Sue and Greg are committed caregivers who work hard to put the needs of the young people in their care above all else. They always advocate strongly for the best needs of young people and consistently maintain strong relationships long after they leave.
Sue and Greg are respected mentors to other foster carers in their community and understand the need for more caregivers to actively promote their positive experiences.
Dorothy Waitoa
Dorothy's true passion lies in creating better outcomes for young people. She is loved and respected by her community members and the young people in her care. Dorothy truly understands the importance of ensuring that young people in her care are part of her whanau.
On top of her full-time care duties Dorothy delivers parenting programmes for teen mothers, works as part of Maori women's welfare league and provides support to other caregivers in her community.
Maraea Ranapia
Maraea is affectionately known as Aunty Mars by both her peers and the young people in her care. Maraea's success comes from her ability to create environments that promote care, stability, consistency and lots of fun.
Maraea uses her experience growing up in a large family to impress on her children that it is important to work as a team. She ensures each young person feels that they have someone on their side.
Maraea is phenomenally cheerful and navigates the complications of caregiving with a positive attitude. She is respected and loved by everyone around her.
Leigh Henderson
Leigh, with the support of her generous husband Errol, have custody of three of their grandchildren.
Leigh is actively using her experiences to support others in her community without judgement. She works hard to create links for other caregivers to connect with health teams and has developed strong relationships with others who share similar experiences to her own.
The connections Leigh creates within the care community and her knowledge and support in understanding health systems is making a huge difference to others.
If you know an extraordinary caregiver who goes above and beyond for their tamariki and rangatahi, please consider nominating them for next years awards. We know that there are so many caregivers out there who deserve this recognition, with your help we can make this happen. Keep and eye on your inbox for an email announcing when nominations open.
Your gift will help foster parents transform a child's life