Kia ora koutou / Hello everyone,
The world has been changing fast lately. We have been in our bubbles for some time now and many of us are starting to show signs of bubble fever. Life has never been busier, juggling parenting with teaching and working from home or as an essential worker.
We may be feeling stressed, anxious or worried about what is happening around us, or feeling down and depressed. All of that is understandable; a lot is out of our personal control right now. So be kind to yourself.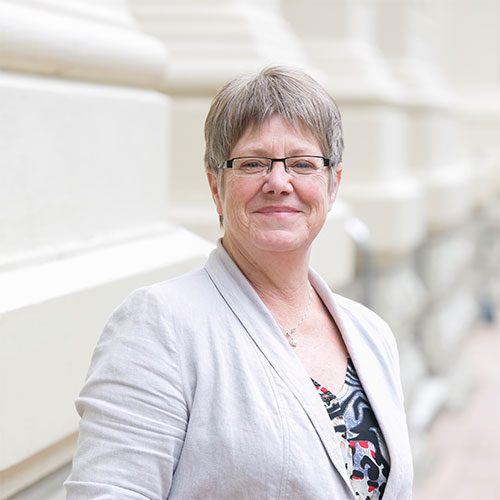 Barbara McElligott 
Lower South RC 
03 928 5122 or 027 501 0391
Fortunately, there is something you can do to help – get your bubble moving. This is a great message from The Southerly, part of a local Eastern Southland welfare response to Covid-19.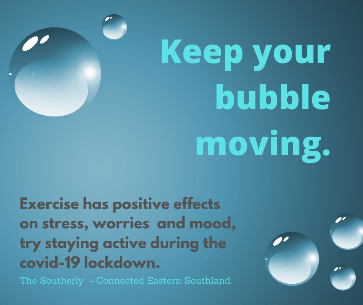 Most of us have heard the message that exercise is important for physical health. It's much less understood though just how powerful the effects of movement are on our stress and mental wellbeing. In fact, research shows that even going for a gentle walk for half an hour, three times a week, can have as much effect on your mood as an antidepressant.
Often the hardest part is getting started. Don't wait until you feel like it. Instead, sneak up on yourself. Get changed and head out the door 'for just a few minutes'. Instead of thinking 'exercise', think of it like escaping. More often than not once you're out in the fresh air, it becomes easier to decide to walk to the end of the block, or add a few more minutes… You will likely feel the positive effect surprisingly quickly, particularly when you're stressed, worried or down.
Go for a walk around the block – Get out of the house and look at all the beautiful birds in your neighbourhood.
Take it out on the weeds – If you have a backyard, there is a whole gym outside.
Join an exercise class online – There are Less Mills exercise classes on TV.
Links to Exercise Videos:
It has been great connecting with those of you that have been joining in on our regular 'Zoom' sessions over the lockdown period. If you are feeling the need to see different faces or simply download and upload,  join us in our next Zoom session.  Watch out for the invitation on our Facebook group and via email.
Kia Kaha, Kia Toa, Kia Pai
Be strong, Be courageous, be kind
Barbara McElligott
Have you joined our closed Facebook Group?
As a member of Caring Families Aotearoa you have exclusive access to our CLOSED Facebook groups. These are only open to caregivers that are members of Caring Families Aotearoa. This allows our members a platform to seek support, information and resources.
Click the link below to join!