"Popoia te kakano kia puawai"




"Nurture the seed and it will blossom"
It's time to put the mārakai (veggie garden) in. Here are some helpful tips on how to set up your mārakai including all the elements for good living: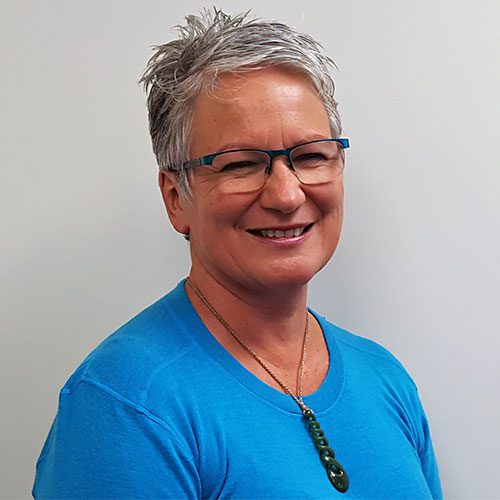 Leanne Brownie
Upper North RC
09 283 9483 or 027 566 0294
First, we choose the plot. The best position in your garden for sun and rain
(Choosing a safe place to live)
Prepare your soil by adding compost
(Tapping into past wisdom)
Plant preserved seeds from last year's crop
(Adding today's generation to our story)
We protect the garden beds
(Add your aroha/love, and mahana/warmth)
We water, watch and wait until those lovely shoots breakthrough
(See nurture and nature combine)
We protect our veggie garden.
(In our role as caregivers we are Kaitiakitanga/Guardians Protectors. We may not have been part of points 1-5 but we can still influence our tamarikis growth and development, not without heartache, but it's the next step we can participate in that makes it all worthwhile)
 Harvest time
(Bearing good fruit for the nourishment of others in our family)
Even one pot with a few seeds for your tamariki or mokopuna to experience this process will show them how a small effort can produce much reward and joy.
The point is, we need the practice to care for others, especially if our younger years weren't the most PACEful example of nurture that we know we all need.
Baby steps are key, try to set goals that are realistic for your tamariki and mokopuna. Tamariki need your connection and sensitive, responsive guidance.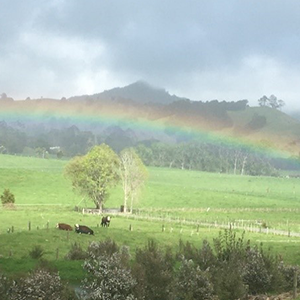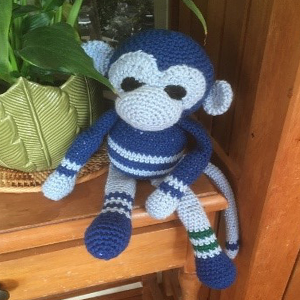 Uenuku/Rainbow at my place.
Meet my makimaki/monkey, made for my mokopuna in Tāmaki Makaurau/Auckland.
Caregiver Catch up in Kaitaia
I have a training session scheduled for Monday 15 November at Kaitaia REAP. I would love to make the most of my time in your area and stay on if you'd like to meet to connect.
If I have expressions of interest by Wednesday 10 November, I will organise a venue and catering.  With so much uncertainty it's good to know that people are making the most of the opportunities we are presented with so let's make the most of this one.
Let's make this our end of year event as the month of December looms large and our calendars get chock-a-block!!  Send me a text or email if you would love to connect.
Kia kaha, kia maia, kia manawanui / Be strong, be courageous, be patient.
Kia pai tōu marama / Have a good month
Nā Leanne / From Me!
Have you joined our closed Facebook Group?
As a member of Caring Families Aotearoa you have exclusive access to our CLOSED Facebook groups. These are only open to caregivers that are members of Caring Families Aotearoa. This allows our members a platform to seek support, information and resources.
Click the link below to join!
Upper North Support Closed Facebook Group