Ngā mihi mahana ki a koutou katoa / Warm greetings to you all,
I have had the pleasure to be a part of a couple of very special events in October and am happy to share a few snapshots of the fun that was had by all.
First of all, we had a bike event run by Rob Douglas from Simply Wild Adventures who did a team building event with OneFortyOne (Nelson Forest Ltd). They kindly donated five bikes to tamariki in the Caring Families Aotearoa whānau. Neither child nor the team were aware that they were building or receiving bikes and the joy that both got when these bikes were presented was priceless. The children were quite overwhelmed and weren't completely convinced that they owned these stunning new bikes until they were getting tied to the backs of the cars to go home with.
Denise Green
Upper South RC
03 929 6578 or 027 369 3333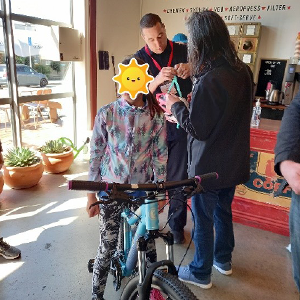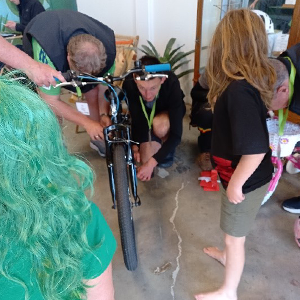 We will possibly be lucky enough to have this event again early next year, so please email me on deniseg@caringfamilies.org.nz if you are interested to receive a bike for a child in your care. Children must be aged between 4 to 13.
The second amazing event was the inaugural Teen Connect afternoon! Teens with their caregivers were pampered with hairdressers, barbers, makeup, nails and kai. We were introduced to Voyce Whakarongo Mai, Whanake Youth Services and the Transition to Adulthood Service. We also had a photo booth and Xbox Station.
A great set of teens helped us set up at the new Whanake Youth venue and we enjoyed seeing both teens and carers getting some amazing makeovers and jammed packed full goody bags. We will run this event again and I must thank our partners; Oranga Tamariki, Voyce, Whanake Youth, Chics and Chaps, Chop City Barbers and Anja Beauty.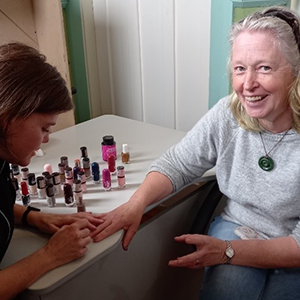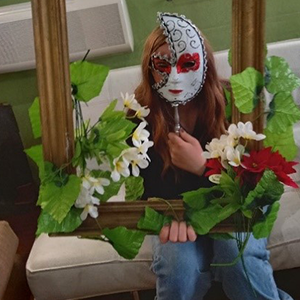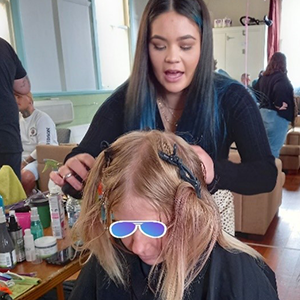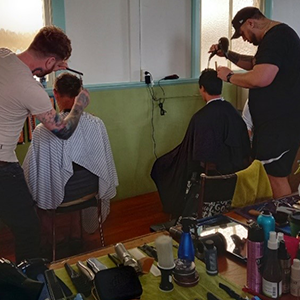 Our world famous in Nelson Fishing Event is HAPPENING!!!
With the end of this very odd year ending soon and all going well with COVID-19 levels, we look forward to this family outdoor event. This year we are lucky to have booked in for Sunday 29 November at the Appleby fishing ponds. Again, we will stage this in half hour increments starting from 9.00 am. Please let me know if your whānau are keen to fish for your dinner! We will have our normal fun things to look forward to; rock painting, kai, coffee, and hopefully some face painting and a bouncy castle while we wait to fish. Book in with me early as spaces are limited. Our Blenheim and Westport events are in the planning so keep an eye out for those emails!
We have had a good start to training numbers in our region with the new modules up and running. Our Term Four training calendar is live. To see trainings available this term, click the button below.
We have been developing some exciting new therapeutic parenting training opportunities. These modules will get into the "nuts and bolts" of parenting tamariki that have been affected by trauma and will guide us to parenting differently and enhance our traditional parenting methods and in a lot of instances, replace some traditional practices, as we learn more about looking through a trauma lens.
Ako Ngātahi is a monthly online discussion series.  Last month, we talked about the Shield against Shame, "It is an amazing training people! totally worth the time commitment."  This month we will be discussing PACE…The Door to Therapeutic Parenting.  Register for one of the virtual sessions (using the link below) and we will send you the meeting link closer to the time.
We also have a series of half day trainings, 'What's Behind the Behaviour – Healing Centred Engagement' is ready for delivery now and there are four more near completion.  Tell your Caregiver Social Worker your interested in our Therapeutic Parenting courses.  If there is enough interest we will be asked to deliver them for you.
Nelson Coffee Group
Nelson Coffee Group is meeting on Tuesday 3 November at 10.00 am at the Victory Church, Vanguard Street.
Kia kaha kia maia kia manawanui / Thanks for being strong, steadfast and willing,
Denise
Have you joined our closed Facebook Group?
As a member of Caring Families Aotearoa you have exclusive access to our CLOSED Facebook groups. These are only open to caregivers that are members of Caring Families Aotearoa. This allows our members a platform to seek support, information and resources.
Click the link below to join!