Kia ora koutou katoa,
Here we are again in an extended lockdown, this time with little notice to get too much organised. I happened to have been away from home in Blenheim when the announcement came, so had no opportunity to grab anything from the office and only have what I take to training. I'm sure there are many of you that were caught in similar circumstances, particularly around school supplies. I feel for our West Coast families who have had enough to deal with over the last number of weeks!
Denise Green
Upper South Regional Coordinator
03 929 6578 or 027 369 3333
Looking back on last year's lockdown, I remember making the New World bag poppies for Anzac day. This time, the lockdown has occurred during Daffodil week for the Cancer foundation. We have had some fun making paper/card windmill daffodils to put in the window or on our balcony. Click the button below if you want to try to make them with your whānau.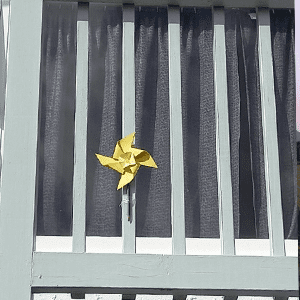 I was so glad to have been able to deliver the What's Behind the Behaviour module with some Blenheim caregivers and enjoyed the participants adding to the kōrero and the support they give to each other. It's very disappointing that our rollout of these new modules has been postponed for the term, but I guess that is the world at present and it is secondary to people's wellbeing and safety. I do however look forward to mingling again, I find lockdown particularly difficult parenting tamariki with special needs.
In the meantime, we have an online learning series call Ako Ngatahi – Learning Together. These are only an hour once a month and have day and evening options available. I recommend that you join in! The next one is on 21 September.
If you have any questions about training, require assistance registering or wish to register by phone please contact:
Dagmar Cronauer, Training Administrator
Free 0800 693 323 l Ph 04 282 0767
DagmarC@caringfamilies.org.nz
On the first Tuesday of every month, starting on Tuesday 7 September there will be a virtual coffee gathering at 12.30 pm or 8 pm. We'd love you to join us from the comfort of your own home.
These are closed coffee groups for Caring Families Aotearoa members that are caregivers only and will be taking place on the first Tuesday of every month.
Please click the button below to register:
Take care out there and let's do our bit again for Aotearoa to stamp this virus out and return to our relative normals. Please contact me if you require some support or just need a chat, our team is working throughout this period, albeit with adjusted days and times to ensure wellbeing is paramount. The easiest method, to contact me, seems to be texting first.
Ngā mihi nui,
Denise
Have you joined our closed Facebook Group?
As a member of Caring Families Aotearoa you have exclusive access to our CLOSED Facebook groups. These are only open to caregivers that are members of Caring Families Aotearoa. This allows our members a platform to seek support, information and resources.
Click the link below to join!