Well summer has certainly arrived – it is wonderful to have some consistent warmth in the air – and yes, we still need more rain for our whenua (land) and our dams.
My family and I enjoyed a trip to Taranaki over Labour weekend to see whānau. I grew up there and just love that feeling of identity and connection building as I start seeing the majestic maunga (mountain) peer through the clouds as you travel towards her along the coast.
Anna Gundesen
Auckland RC
09 280 3862 or 027 538 9691
We have had a good start to training numbers in our region so far this term with the new modules up! I have enjoyed meeting many of you at the workshops. There's still training options available in November, so be sure to check the training calendar by clicking the button below.
I am also looking forward to Caring Families Aotearoa's own training opportunities that will be made available soon. These are focused on our Therapeutic Parenting model based on DDP (Dyadic Developmental Practice). These modules will get to the "nuts and bolts" of parenting our tamariki who have been affected by trauma and will guide us to parenting differently, replacing some traditional parenting practices as we learn more about the benefits of looking through a trauma lens.
Many of you would have attended the Ako Ngātahi/ Learning Together online info and Q & A sessions on the "Shield against Shame" in October. I hope you found that beneficial. It's a great reminder that our tamariki's behaviour is a type of language and a symptom of their internal state, and how important it is to look behind these behavours and to meet them with A & E. No, not the triage experience but the experience of ACCEPTANCE and EMPATHY. If you have joined these sessions, November sessions look into PACE …The Door to Therapuetic Parenting. We have a sessions available during the day and in the evening. You can register now and we will send you the link to join the meeting closer to the time.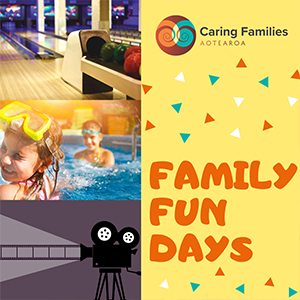 We do have the Family Fun Days coming up in Tamaki Makaurau. They are both Ten Pin Bowling events this time, so will be very different to the usual pool parties, but we will all get to have some fun at these events all the same. To register for tickets, click the button below.
Grandparents Raising Grandchildren and I have been successful in getting funding for a WHĀNAU BIKE EVENT in 2021. We are looking at a date in March. When we confirm the date, I will let you all know and will reveal more details as they come to hand.
FASD Support Group Auckland 
FASD Support Group meet every second Tuesday of each month at 7pm in Blockhouse Bay.
Contact: Ross Porter
Mobile: 021 644 150
Email: rossaporter@gmail.com
Kia kaha kia maia kia manawanui / Thanks for being strong, steadfast, and willing.
Anna
Have you joined our closed Facebook Group?
As a member of Caring Families Aotearoa you have exclusive access to our CLOSED Facebook groups. These are only open to caregivers that are members of Caring Families Aotearoa. This allows our members a platform to seek support, information and resources.
Click the link below to join!
Auckland Support Closed Facebook Group