Kia ora everyone,
I am guessing the school holidays feel like a long time ago now that we are into our third week of Term 4. One holiday highlight for me happened to be down south in time for the snowy weather in Southland. As someone from the landlocked Waikato and based in Tāmaki Makaurau for most of the year, snow is definitely a novelty so I made the most of it and got outdoors in my gumboots.
During this break away, there is a change of energy that can come from playful activities; whether its stomping through puddles instead of walking around them, watching snow fall while counting newborn lambs and making works of art with playdoh; each helping to create moments of connection.
I am reminded of how powerful the Playfulness in PACE can be when seeking to add a bit of joy and fun into the day-to-day. How does playfulness show up during the time you spend with the children in your care?
Christie McGiven
Auckland Regional Coordinator
0800 693 323
or 027 538 9691
Training and Learning Opportunities
If you're keen to join a one-day training this coming term, our in-person workshop is:
Difficult Behaviours – Managing Confrontation and Intimidating Interactions
Monday 21 November – Day session in Manurewa
Tuesday 29 November – Day session in Glenfield
Wednesday 7 and 14 December – Evening sessions split over two evenings in Onehunga for anyone unable to attend during the day.
We have a range of workshops offered online, including FASD, Family Dynamics, Making Changes, What's Behind the Behaviour and Difficult Behaviours. Check out our full training calendar for more details.
Calling all Westies! Family Fun Days are back and kicking off out West, in Henderson, on Saturday 12th November (Ten Pin Bowling).
This will be quickly followed by a Pool Party in Panmure on Sunday 13th November.
If you're located near to Glenfield, our third and final Family Fun Day will be held on Sunday 11 December at Glenfield Pool and Leisure Centre.
There is still time to register for tickets – click below.  Come say 'Hi' to me and our wonderful Regional Committee Members – we'll be hanging out by the Caring Families Aotearoa banner and table.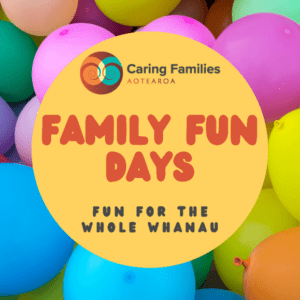 If you're in need of a chat and 1-1 support, feel free to get in touch. You can contact me on 027 538 9691 or auckland@caringfamilies.org.nz during Monday – Thursday (9am-5pm).
Coffee Catch Up – Balmoral McDonalds
On Tuesday 15th November I will be at the Balmoral McDonalds for a catch up and coffee. If your interested in learning more about Caring Families Aotearoa and chat with other caregivers feel free to come along. We'll be meeting between 10am-12pm at Balmoral McDonalds Party Room, 192 Balmoral Road. RSVP here or text 027 538 9691.
To join your Caring Families Aotearoa Auckland Support closed Facebook group, click here. This group is for caregivers only and is a great place to share ideas and support each other.
Tiaki i a koutou anō, look after yourselves!
Christie