Te Wiki Tūao ā-Motu 2023
(National Volunteer Week 2023)
In June we celebrated Te Wiki Tūao ā-Motu (National Volunteer Week).  A lot of what we do here at Caring Families Aotearoa is powered by an incredible army of volunteers; we're able to reach more caregivers and have a greater impact because of those who generously donate their time and support. We'd like to express our gratitude and say a big THANK YOU to our awesome volunteers for their mahi.
To celebrate, we shared stories from a few of our awesome volunteers – keep reading below to learn more about what our volunteers do, and what they had to say.
Caring Families Aotearoa has many successful caregiver support groups around the motu (country), but this wouldn't be possible without our wonderful volunteer support group liaisons. Their role is to organise regular get togethers for their group and help recruit new members. Sometimes liaisons will also organise special guest speakers or events for their group.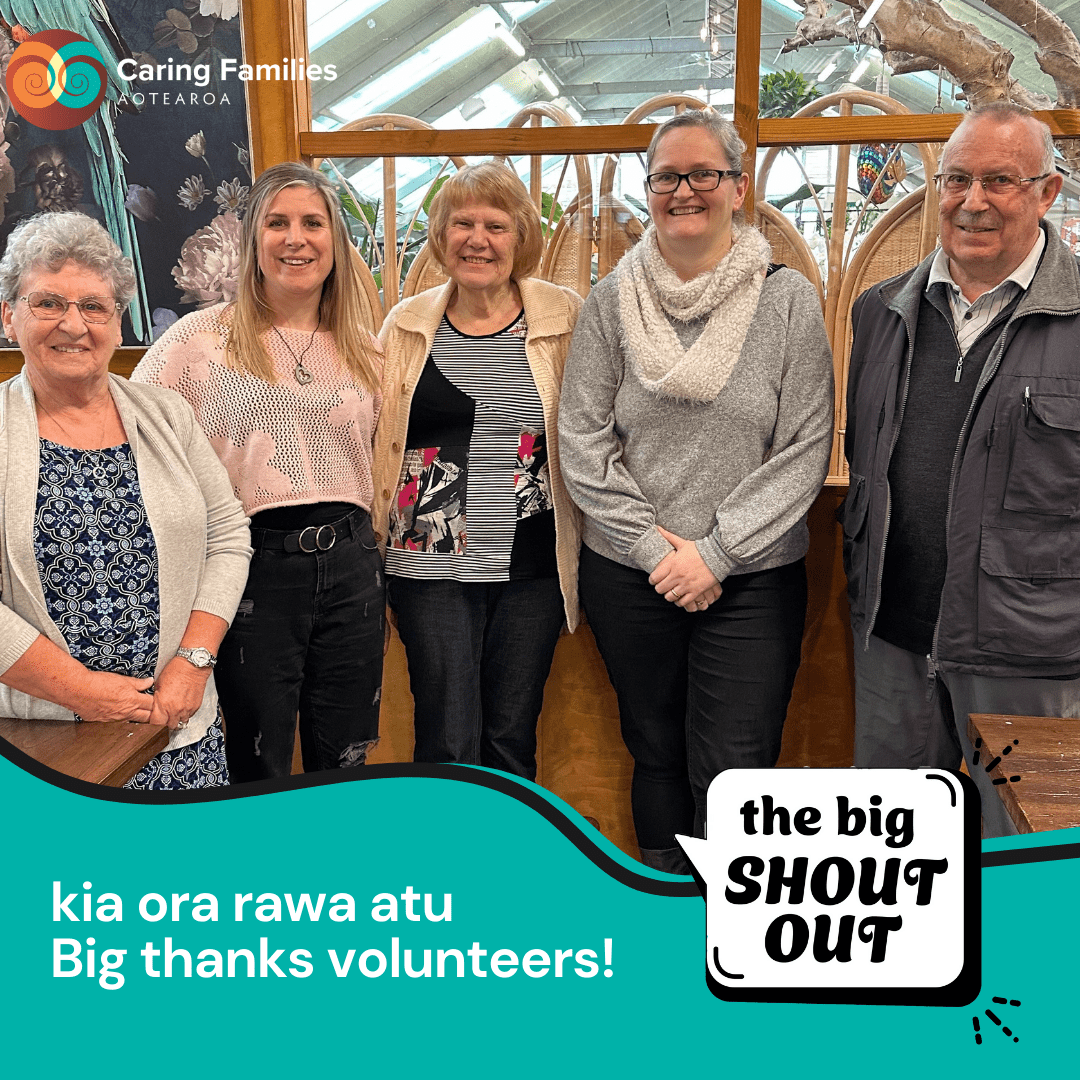 Pictured above are some integral members of one of Caring Families Aotearoa's long standing support groups – the Wellington Family and Fostercare Association (WFFCA). Left to right: Raewyn, Tori, Coral, Natalie, Ian.
When asked about their
committee, the WFFCA support group liaisons told us "As a committee, we strive to be welcoming and supportive of all foster carers whatever stage they're at, whoever it is they care for. We do monthly events at cafes and restaurants around the Wellington area. Our favourite part of being involved in a support group is getting to know each other, sharing helpful information, and supporting each other through the often thankless and tiring role that is caregiving."
Become a Support Group Liaison
Interested in becoming a liaison for your very own caregiver support group?
Click below to learn how we can help you get your group set up!
Join a Support Group
Do you want to connect with other caregivers in your region? Join one of our friendly support groups today by clicking the button below.
Our Office Volunteer, Wendy!
We'd like to introduce you to one of our incredible long-standing volunteers, Wendy, who has been volunteering for Caring Families Aotearoa since 2011.
Wendy comes into our National Office once a week and works away creating handmade cards that accompany our welcome packs for new supporters. Her duties also extend to helping with other tasks around the office, which she does willingly and without complaint.
Her personality is also sprinkled with a wicked sense of humour, and she contributes a real ray of sunshine to our work environment. Wendy is an absolute asset to our organisation, and we are very grateful for her continued support and generosity.
Volunteer Critical Support Workers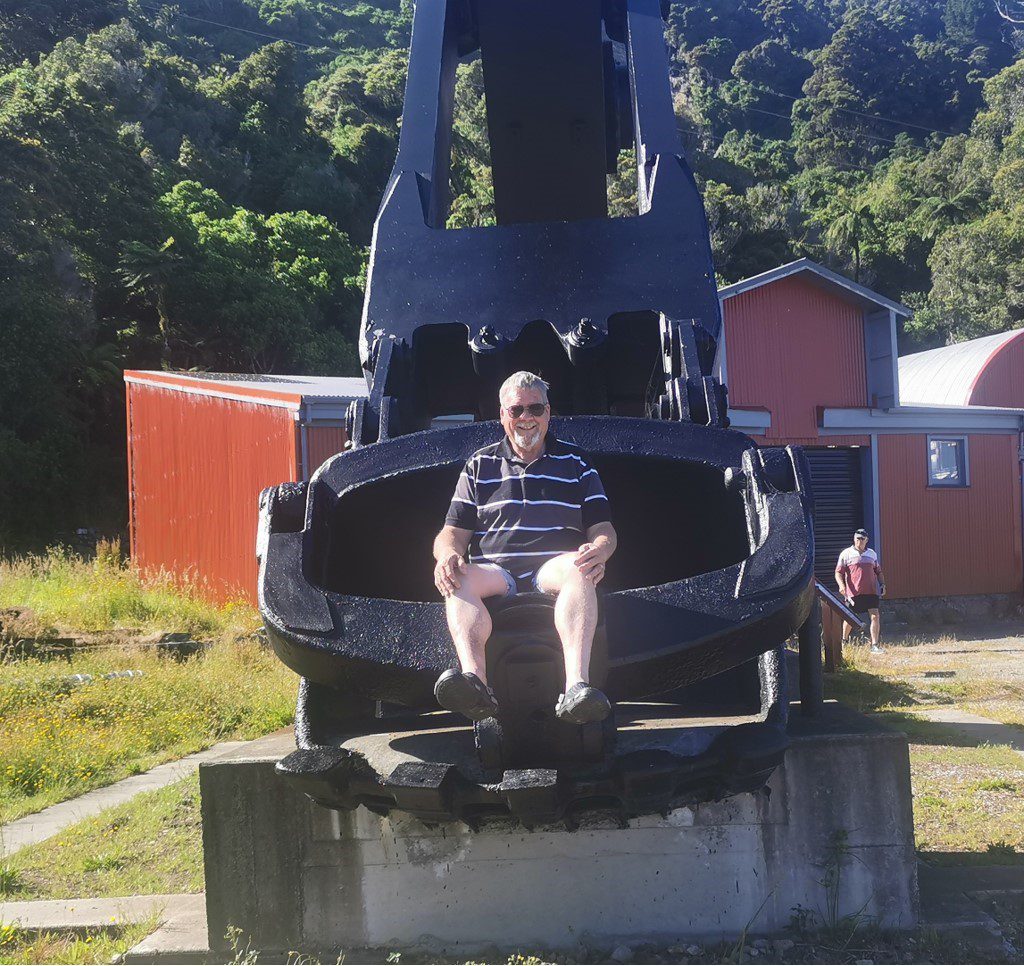 Wayne Marshall has been a Volunteer Critical Support Worker with Caring Families Aotearoa since 2009. We have Volunteer Critical Support Workers around the country who help give advice and support to caregivers who are going through an allegation. They provide empathy, understanding, and constant support throughout the entire process so that no caregiver ever has to feel alone through what can often be a daunting and confusing experience.
We spoke to Wayne about his experience as a Critical Support Worker. Keep reading below to find out more!
WHAT INSPIRED YOU TO START VOLUNTEERING FOR CARING FAMILIES AOTEAROA?
I guess for me, it all started when my wife, Judith, and I started managing a Family Home. Whilst we were managing the Family Home, we got in contact with Barbara, who was the Lower South Regional Coordinator from Caring Families Aotearoa at the time. The support that Barbara gave us was incredible, and the more contact we had with her, the more I started to recognise that many local caregivers still didn't know about the support that was out there. Because of this, myself, along with the support of Barbara, set up a South Otago Caregiver Support Group so we could help educate caregivers on the support available. This then led onto being offered a position as a Critical Support Volunteer. 
CAN YOU TELL US A LITTLE BIT ABOUT WHAT YOU DO IN YOUR ROLE AS A CRITICAL SUPPORT VOLUNTEER? 
I see my role as a Critical Support Volunteer as a guide to support caregivers through the often difficult and upsetting process that occurs when an allegation is made. My role is not to take sides, but to support caregivers to be able to understand the allegation process, and if possible, try to help them negotiate the process with a clear understanding of what to expect. The caregivers I support know that I am available to talk throughout the allegation process. 
Critical Support Workers around Aotearoa
WHAT IS THE BEST PART ABOUT YOUR ROLE? 
Meeting wonderful people and helping them through what can be a very confronting process. 
WHAT WOULD YOU SAY TO OTHER PEOPLE WHO ARE THINKING ABOUT VOLUNTEERING?  
Have a good working understanding of the system you are getting involved with, use firm boundaries to prevent getting emotionally involved and you can have a very rewarding experience for yourself that allows real personal growth.  
Need Support?
If you are a caregiver going through an allegation, our Allegation Support Team, along with our volunteers like Wayne, are here to support you through the process and give you advice. Contact our Allegation Support line so we can start supporting you today.
0800 693 278.
Become a Critical Support Volunteer
Interested in joining Wayne as a Critical Support Worker? Click the button below to learn more about the role and how to apply.