The light at the end of a dark tunnel
A few weeks ago, Lillian wrote to Caring Families Aotearoa to say how grateful she is for our support of her family.
This is Lillian's story that she wanted to share with you, so you know how much our support is making a difference for caregiver families.
"In my and my husband's care is a beautiful young man called Toby. We began looking after him on weekends for his grandmother and are now full-time caregivers for this fragile boy. Toby has extremely high and complex needs. He suffers from developmental trauma, ADHD and Fetal Alcohol Spectrum Disorder.
Toby has moved through five schools over the past five years and an exclusion followed in October. He has been out of school for eight months.
We're getting older now and with Toby being out of school and having such high needs I had to give up my job, which I loved, and financially we couldn't do without. We've struggled for years to get the correct support in place for ourselves and Toby.
Do you want to know what has been the light at the end of this dark tunnel? The team at Caring Families Aotearoa!
In Christchurch there was Nicole who made sure we were looked after. Then when we moved to Otago, Barbara threw us a lifeline. She has stuck beside me, texting and calling regularly to check what support I need. She introduced and connected me, my husband and our boy with many support services in the local area.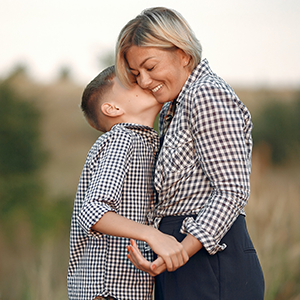 In one month, there are potentially more positive outcomes occurring than ever happened in the last five years of our care journey.
Toby now attends play therapy every week and we are looking at what will be our first respite ever. My husband and I haven't had a night just to ourselves in five years!
With Toby being out of school for such a long time we now mostly home school, but for the last two weeks he has attended the local school for about 40 minutes a day.
This one small positive step for our family, has been one giant positive leap for our boy. All because a group of people really cared and wanted to make a difference for us".
Thank you so much Lillian for sharing your story with us!
Here at Caring Families Aotearoa, we know that no care journey is the same and you all have experienced highs and lows through your journey. We thank you so much for what you do to support the tamariki (children) and rangitahi (young people) in your care.
If you need support, please call us on 0800 693 323. Caring Families Aotearoa have Regional Coordinators throughout New Zealand who are there to support YOU, our wonderful, hard working Caregivers.